About this project:
A Void Reducing Asphalt Membrane, VRAM, project took place on August 16th in Allen County, Indiana.
This project on Carroll Road covered the section from Hand Road to US-33. VRAM was applied to the centerline joint, prior to HMA paving with a targeted 18" wide band as seen below.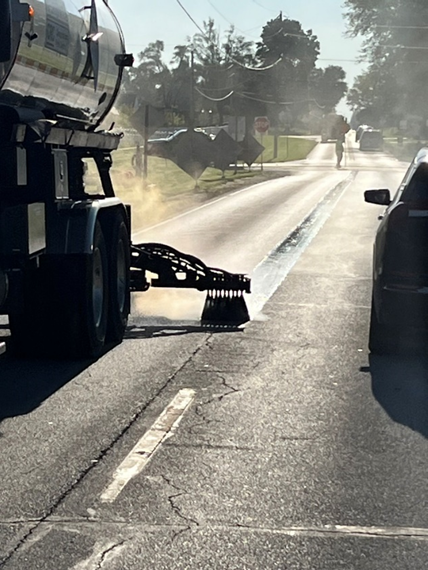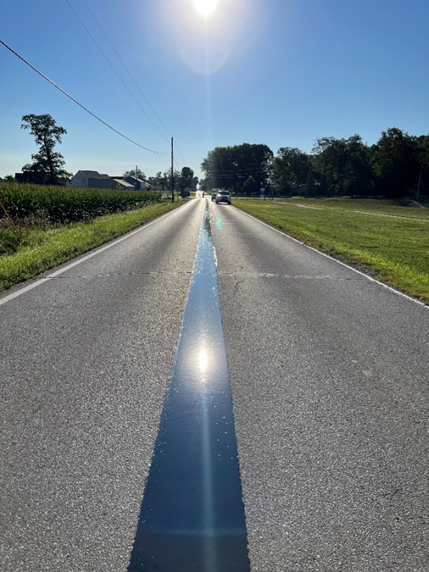 The applicator for this project was Road Fabrics Inc (RFI).
The prime paving contractor was API.
The VRAM application began on August 16, and the project finished up on August 25th with the paving of the road. The project covered a section of about 22,441 feet long on Carroll Road. After the VRAM was placed, the crew returned later in the week to complete the paving.
Asphalt Paving Process: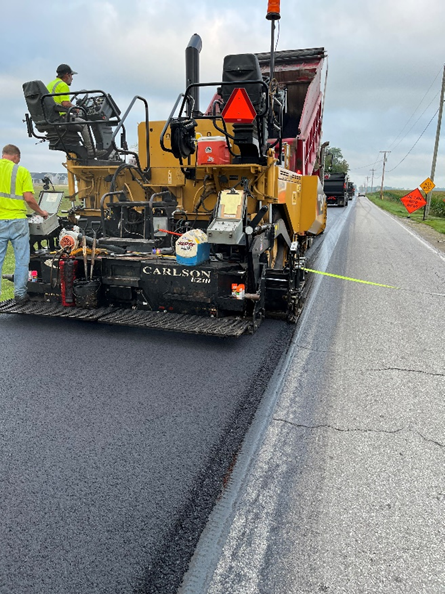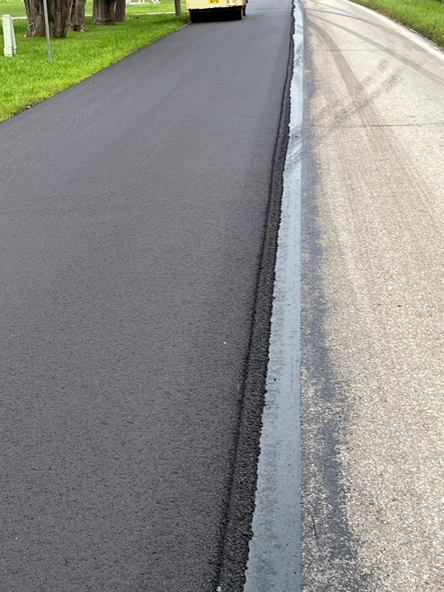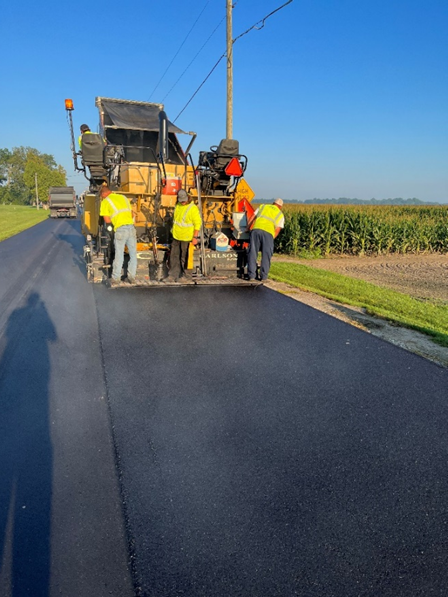 The road was paved with 1.5" HMA 9.5 mm surface course was overlaid on existing surface course for both days of paving. Editors Note: HMA – Hot Mix Asphalt.
The paving train consisted of a CAT AP 1000E paver, a Bomag BW266AD steel drum roller, and an Ingersol Rand DD90HH steel drum roller.
The Bomag BW266AD roller was operating as the breakdown roller working high to low with 5 passes, all in static mode. The Ingersol Rand roller was working as the finish roller in static mode.
Pictured to the left are photos of the crew completing the pavement process of the road.
VRAM can help state and local agencies achieve the DOT's Strategic objectives
Agencies are now being asked to build more resilient and sustainable transportation systems to benefit and protect communities. VRAM can help achieve these objectives. VRAM can help improve the resilience of at-risk infrastructure by helping build longer-lasting, safer roads. Historical data from previous VRAM projects shows that an investment in protecting the longitudinal joint helps roads last up to 5 years longer and delivers a return on investment of 3 to 5 times its cost.
J-Band® is a VRAM product of Asphalt Materials, Inc. with a long performance track record dating back to 2002. J-Band was created in the labs of The Heritage Research Group in collaboration with state and local agencies and industry experts.
An Indiana DOT life cycle analysis showed that an investment of $12.5M in J-Band would result in a $39M in savings (approximately 3:1 ROI). Every dollar invested in J-Band® can save at least two dollars in avoided and deferred maintenance costs.
Applying VRAM to the centerline joint aids in protecting the most permeable part of the road from air and water, which will damage the pavement as they work down into the pavement.
J-Band® is Asphalt Materials' VRAM and unlike other methods is a materials approach to fixing the age-old problem of longitudinal joint issues. It is a highly polymer-modified asphalt cement that is placed along the location of the longitudinal joint before paving.
To learn more about Asphalt Material's mix application product line AMIBIND™, visit the website: https://asphalt-materials.com/products/
---
Editor's Notes: VRAM, Void Reducing Asphalt Membrane, is referred to in Illinois as LJS, Longitudinal Joint Sealant.
Centerline joints and longitudinal joints are often used interchangeably in describing the area of the pavement where two sections come together.
Depending on the situation VRAM can be sprayed at different width's. It should be noted that 18" is a typical application width for centerline applications.
J-Band® and CCAP ® are registered trademarks of Asphalt Materials, Inc. AMIBIND™, AMIBOND™, AMICYCLE™, AMIGUARD™, AMISEAL™ are trademarks of Asphalt Materials, Inc.